Offers versatile wardrobe development and management. Creating a personalized shopping plan based on your style and budget. This includes shopping for new clothing, shoes, and accessories with a full evaluation of each item. I will respectfully make recommendation of items to purchase and items to forego.
BOOK AN APPOINTMENT
We are all different, right? Exactly! Image consultation is catered to each client's specific needs. We work together in defining your style and creating a custom wardrobe, to complement your lifestyle or the lifestyle of your loved ones. Recommending the best services in the industry for hair, makeup, skincare, health, fitness and beyond.
BOOK AN APPOINTMENT
I enjoy the versatility of Fashion. All ages, all genders, or gender neutral. With my range of knowledge from Urban Wear to High Fashion Couture to Black Tie I can assure you look and feel your best on any occasion. I have had the ability to work with babies from 2 months old to an amazing 92-year-old spirit! 
BOOK AN APPOINTMENT
I love organization! I personalize your and/or your families suitcases based on traveling plans. I can coordinate your outfits based on your travel schedule. And if you need last minute assistance thanks to my photographic fashion memory, I can help you pick an amazing outfit on the FLY!
BOOK AN APPOINTMENT
Time to simplify your wardrobe! Whether you have too much or not enough in your closet, I will assist in educating you on the best clothing for your body, coloring, and style, and help you rework or eliminate the unnecessary. Achieving closet clarity! 
I will evaluate each item in your closet and give tailoring notes for the pieces that need to be altered to fit properly. We will create a Wishlist of new clothing, shoes, and accessories to add to your wardrobe. And more!
BOOK AN APPOINTMENT
Let us talk about your event and the aesthetic you are going for and let us make that fashion statement come true. Whether it be mother of the bride, bridesmaids& groomsman, even the bride herself! 
It does not stop there, Bar Mitzvahs, Holiday Parties, Anniversary parties, Photoshoots, Galas, etc. No matter the occasion I will find you a special piece. 
BOOK AN APPOINTMENT
If you need a girt for a loved one or a special someone, I can help you pick something that they will love! 
Holiday Shopping? Do not worry about Holiday madness that's my Forte! I complete all types of Holiday Shopping from decorations, gifts for everyone in the family, even gift wrapping. 
BOOK AN APPOINTMENT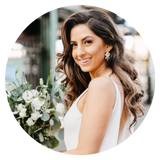 I have been shopping with Rachel for as long as I canremember and have never seen someone more passionate and inspired by fashion. She has helped me shop and plan outfits for so many occasions over the years, both big and small. Rachel found my wedding dress at the first store we visited within five minutes. Her talent isn't limited to just fashion either— she helped me decorate and organize my house, too!
I met Rachel when I worked for Bloomingdales a few years ago and I instantly gravitated to her fun, welcoming personality. She was shopping for a few clients at the time and I was in awe at the amount of dedication she invested on each of them! She was able to turn any outfit into a MASTERPIECE, whether it was trendy, timeless, or just for everyday. She truly loves what she does and it shows, now I send pictures to Rachel to make sure my look is top notch before I step out. What would I do without her!
Rachel is my go to girl for all things fashion. She organizes my closest, tells me what to purchase (because I would never purchase anything myself), fills in what I'm missing, shops for me, and even helps me find a dress for any occasion. She is also so personable and you can tell she really loves what she does! 
Rachel can help you even if your wardrobe doesn't need any help, Rachel can just pick out an outfit for work, everyday life or just for a special occasion - no job is too big or too small.